Scorchers Are British Basketball All-Stars Champions
---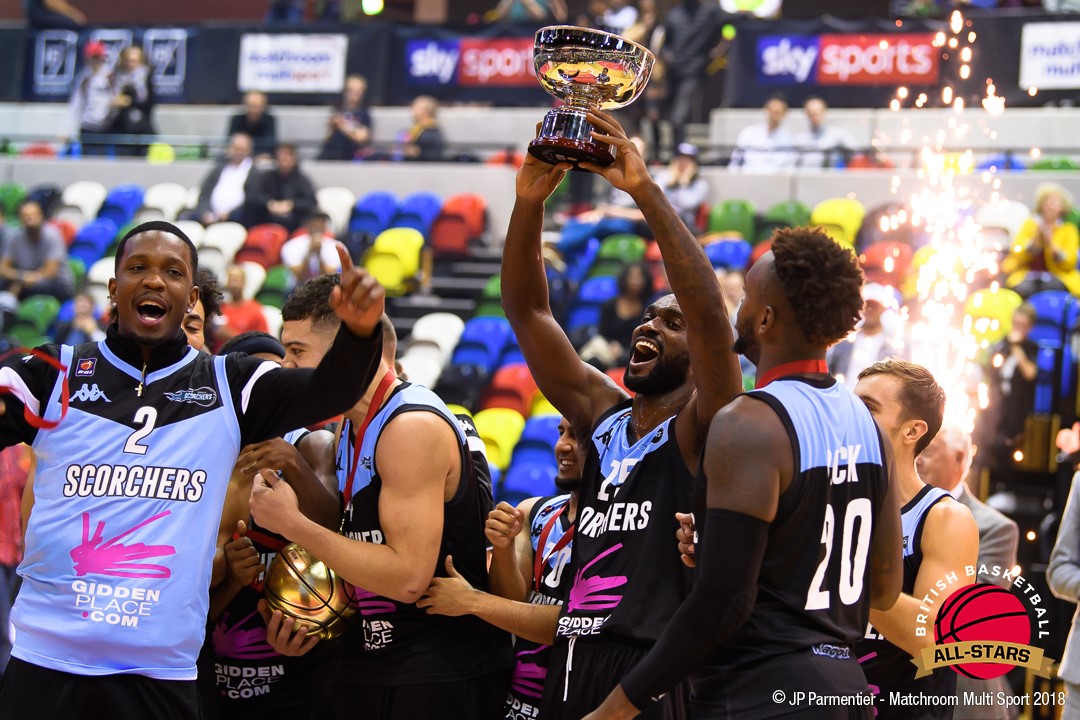 Surrey Scorchers won the British Basketball All-Stars Championship with a 36-33 overtime victory over Leicester Riders in a thrilling final at The Copper Box Arena, London.
MVP Jordan Williams was his side's standout performer, creating the plays which saw Scorchers to group wins over Worcester Wolves and Bristol Flyers after they'd lost their opening fixture 43-30 to Flyers.
In the semis Scorchers dispatched of Esh Group Eagles Newcastle 34-24 while Riders put out defending champions London Lions 36-26 to set up what turned out to be the match of the tournament.
Scorchers, with the majority of the crowd behind them, and Riders battled it out for 12 gripping minutes but couldn't be separated in regulation time. In the additional 60 seconds it was MVP Williams who made the decisive points as Scorchers took the £25,000 title 36-33.
"I feel great," said Williams. "Coming into this tournament, in front of my home crowd, it is crazy. We have had a rough start to the season but I feel like in this tournament we came together, played as a team and we won it all."
Coach Creon Raftopoulos said: "I am so happy for the guys. We came in here, I don't think many people gave us a chance but it is a format of basketball that plays into our up-tempo style, so it worked out for us.
"It was a big thing to win that final. Last year we had a lot of emotions, me personally with my dad, so I wasn't in the right frame of mind so to come here and be able to coach to a level that allowed the players to win was absolutely great."
The British Basketball All-Stars Championship featured 12-minute matches, an all-star 5-point line and a Golden Buzzer Power Play as the top eight BBL teams battled it out for their share of a £100,000 prize fund.
2018 BRITISH BASKETBALL ALL-STARS CHAMPIONSHIP RESULTS
Double Elimination Stage
Worcester Wolves 6-45 London Lions
Bristol Flyers 43-30 Surrey Scorchers
Glasgow Rocks 40-45 Esh Group Eagles Newcastle
DBL Sharks Sheffield 30-24 Leicester Riders
London Lions 29-21 Bristol Flyers
Esh Group Eagles Newcastle 31-25 DBL Sharks Sheffield
Worcester Wolves 17-49 Surrey Scorchers
Glasgow Rocks 22-37 Leicester Riders
Bristol Flyers 27-36 Surrey Scorchers
DBL Sharks Sheffield 20-31 Leicester Riders
Semi-Finals
Esh Group Eagles Newcastle 24-34 Surrey Scorchers
London Lions 26-36 Leicester Riders
Final
Surrey Scorchers 36-33 Leicester Riders