All-Stars Teams Confirmed for September Showdown!
---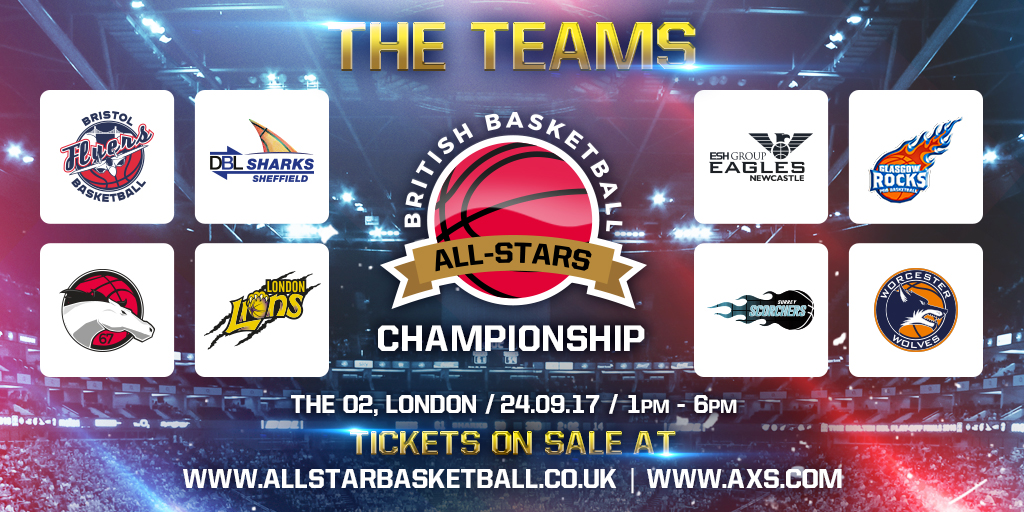 Matchroom Sport are delighted to be able to confirm the eight BBL teams who will compete in the British Basketball All-Stars Championship at The O2 on Sunday, September 23.
The top eight teams in the BBL have all qualified to compete in this exciting new tournament which introduces a new, entertaining take on the fast-paced game with a record-breaking £100,000 prize fund.
The eight teams are:
Bristol Flyers
DBL Sharks Sheffield
Esh Group Eagles Newcastle
Glasgow Rocks
Leicester Riders
London Lions
Surrey Scorchers
Worcester Wolves
The format for the Britisih Basketball All-Stars Championship introduces some exciting new innovations. Matches are just 12 minutes long with a 20-second shot clock. An All-Star 5-point line offers rewards for those willing to brave a shot from distance while teams will also have a two-minute Power Play at their disposal, during which any pointes will be doubled. Click here to see the format in full.
Tickets for the British Basketball All-Stars Championship are available now from www.theo2.co.uk and start from just £20 with group tickets available priced from £60 for four adults. VIP Courtside tickets are available for £150 via www.allstarsbasketball.co.uk.